There are three easy ways for adults to get started with indoor climbing at Alter rock.
Under 18s can start with a taster then join one of our clubs or a junior NICAS course.
1) Taster Session (one hour)
A fun one hour experience to see what indoor climbing is all about. Your own instructor and all kit is provided and you can have a go at roped climbing, abseiling, bouldering, Air Walk and cave. Your session you choose.
Price: £25 for one; £12.50 each extra person up to a max of eight. Two people can book for just £30 with a voucher on our special offer page.
Age: Any ( Parents must join in with under 7 year olds)
Time: Any time you wish, but you must book first by calling us on 01332 367200.
2)Parent & Child Climbing Taster
Parent and Child Climbing Taster sessions are 1 hour long and can be booked at a time that suits you when we are open.
The object of the session is to ensure the adult can put on a harness correctly, tie in and belay a child. If the adult is competent at this then they will be registered as a Parent and Child Climber allowing them to bring 2 children anytime without having an instructor.
"It's awesome!", they tell us.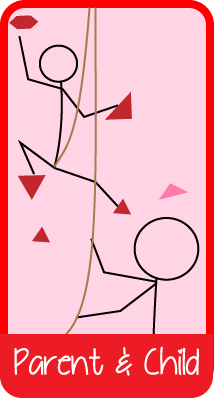 One adult can supervise a maximum of two children.
No age limit: The children can be any age because you as a parent or guardian look after your children.
Cost Training session : £25 for every adult receiving instruction.
Cost normal sessions: £12.50 per child
Entry, all equipment & instruction, included.
Parents are free (once training complete) but don't climb.
Activity: climbing
3) Beginners Climbing Course (3 hours)A 3-hour session to learn essential indoor rock climbing skills so you can climb safely.
Alter Rock is a great place for you to learn indoor rock climbing in Derby. On our 3 hour Beginners Indoor Climbing Course, you will receive tuition from one of our friendly fully qualified instructors. You will be shown how to wear a harness correctly and use the equipment safely whilst enjoying yourselves and learning beginners climbing skills.
Price: £40.00 per person, which includes: entry, lifetime membership of Alter Rock, equipment hire and instructor for three hours. Pay just £70 for two people when you pay online with a voucher on our special offer page.
Age: 18+
Time: Monday – Friday 6 – 9pm; Saturday & Sunday 12pm – 3pm
This Learn to Climb Course will run with a minimum of 2 people and a maximum of 6. You can book onto this course as an individual, or if you are a group of six, contact us and we can arrange a private course at a time to suit you.
Phone 01332 367200 or email questions@alter-rock.co.uk to book your session. We look forward to introducing you to the great sport of climbing.
On completing this Beginners Indoor Climbing Course you can return to Alter Rock and climb whenever you like. If you ever need some help or advice, our friendly staff will always be happy to help.
4) Beginners NICAS Course (six weeks)
Join our Adult 6-week National Indoor Climbing Award Scheme (NICAS) course. This starts every couple of months and will give you more skills and confidence so you can climb the routes in style. You learn in small groups and climb with the other beginners and get a nationally recognised qualification at the end. During the six weeks, you have free entry to the centre at any time so you can come and practice your new moves.
Click here for more info and dates of upcoming courses.
Special Offers
Check out our Special Offers page for any deals we have running at the moment.