Holiday Boredom Busters
NEXT SESSIONS: Halloween Half Term                                 30th Oct – 4th Nov 2019
"Mum, Dad, we're bored!" Do you dread hearing this in the school holidays? At Alter Rock we run special activity sessions for children during the Derbyshire school holidays that are not just fun but develop their skills and tire them out too.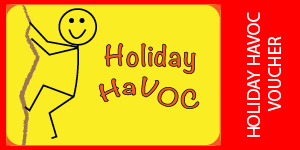 In our Parent and Child sessions parents can bring their kids along and help them climb with ropes or scramble along our bouldering routes. On our Holiday Havoc days you can drop them off for the whole afternoon (12 till 4pm) and have time to yourself.
And we guarantee they won't be bored!
***SAVE £5 on a Holiday Havoc session with our voucher here.***
Below are some photos from recent holiday activity sessions showing three children on the bouldering panels, preparing for a Parent and Child climbing session and swinging on the arial obstacle course the Air Walk.
HOLIDAY HAVOC – FOUR HOURS OF FUN
Monday – Friday 12-4pm every Derbyshire School Holidays. Working in groups with an instructor, the kids will spend the session having a go at a variety of activities – climbing, caving and swinging through the rafters on the thrilling Air Walk Challenge. They can also try bouldering and abseil down from our rafters. It's an action-packed FOUR HOURS OF FUN that your children are sure to enjoy.
Cost: £20 per child, including instruction and all equipment. SAVE £5 with our voucher here.
Booking is essential and children must be at least seven years old to take part.
Activities: climbing, bouldering, caving, AirWalk and abseiling.
Parents do not need to stay at the centre during this session, but you must book and pay in advance. Places are limited to 16 per day, so book early to secure your place(s).
Changes/cancellation: Bookings can be transferred to another date if there are places available.  A full refund will be given If you cancel before 2pm on the day before the booked date. There is no refund if you cancel after this.
Age limit: Minimum age 7 years. Y

ounger children are welcome to come and climb with a parent or other responsible adult for £10.
PARENT & CHILD CLIMB (also weekends during term time)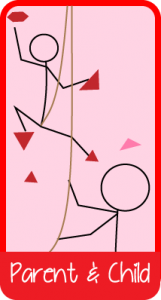 Parent and Child Climbing sessions from 12pm – 4pm every weekday during the school holidays. And every Saturday and Sunday all year round.
Bring your child along and they can climb with you, their parent or guardian holding the rope. Our instructors will give you all the help you need to look after your kids on the roped climbing walls. And will be on hand to help and answer any questions you may have during the session. Your child can also scramble along the bouldering routes where they don't need a rope.
"It's awesome!", they tell us.
There is no need to book, simply turn up and climb any time from 12pm to 4pm each week day.
One adult can supervise a maximum of two children.
No age limit: The children can be any age because you as a parent or guardian look after them while our instructors supervise you. We have small full body harnesses available and have had 2 year olds climbing.
Cost: £10 per child including safety equipment and climbing shoe hire. Parents are free but don't climb.
Activities: climbing and bouldering. No need to book, just turn up.
 Please note these children's holiday activity sessions run during Derbyshire school holidays, dates of future holidays can be found here: Derbyshire County Council School holidays