Holiday Boredom Buster
"Mum, Dad, we're bored!" Do you dread hearing this in the school holidays? At Alter Rock we run special activity sessions for children during the Derbyshire school holidays that are not just fun but develop their skills and tire them out too.
Please note these children's holiday activity sessions run during Derbyshire school holidays, Derbyshire County Council School holidays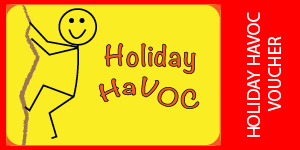 On our Holiday Havoc afternoons you can drop them off 12 till 4pm and have time to yourself.
And we guarantee they won't be bored!
***SAVE £5 on a Holiday Havoc session with our voucher here.***
HOLIDAY HAVOC – FOUR HOURS OF FUN
Monday – Friday 12-4pm every Derbyshire School Holidays. Working in groups with an instructor, your children will spend the session having a go at a variety of activities – climbing, caving and swinging through the rafters on the thrilling Air Walk Challenge. They can also try bouldering and abseil down from our rafters. It's an action-packed FOUR HOURS OF FUN that your children are sure to enjoy.
Cost: £20 per child, includes instruction and all equipment. SAVE £5 with our voucher here.
Booking is essential.
Activities: climbing, bouldering, caving, AirWalk and abseiling.
Parents do not need to stay at the centre during this session, but you must book and pay in advance. Places are limited to 8 per day, so book early to secure your place(s).
Changes/cancellation: Bookings can be transferred to another date if you inform the centre 24 hours before your session.
There are no refunds.
Age limit: Minimum age 7 years.
PARENT & CHILD CLIMBING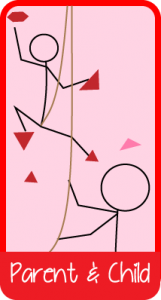 Parent and Child Climbing sessions are 1 hour long and can be booked at a time that suits you when we are open. The object of the session is to ensure the adult can put on a harness correctly, tie in and belay someone is not an adult. If the adult is competent at this then you will be registered as a Parent and Child climber and bring your children anytime you wish without having the need for an instructor.
Bring your child along and they can climb with you, their parent or guardian tending the rope. Our instructors will give you all the help you need to look after your kids on the roped climbing walls. And will be on hand to help and answer any questions you may have during the session. Your child can also use the bouldering where they don't need a rope, go in the cave and use the Air Walk.
"It's awesome!", they tell us.
One adult can supervise a maximum of two children.
No age limit: The children can be any age because you as a parent or guardian look after them while our instructors supervise you.
Cost: £10 per child including all equipment & instruction.
Parents are free but don't climb.
Activities: climbing, bouldering, cave & Air Walk.