Alter Rock can offer a variety of different sessions and activities to suit your schools needs. We are always happy to tailor sessions for your particular group.
We can open from 9am for school groups and the duration of the sessions can be altered to suit your school's timetable.
Block bookings can be made for fun sessions or for more structured National Indoor Climbing Award Scheme (NICAS) courses. Alternatively take a look at our one off sessions for a fun end of term treat and team building day.
Alter Rock also has a mini-bus giving FREE transport to schools in Derby for groups of up to 16 passengers during school hours.
Below are the packages that we currently offer schools, for children aged 7 and over.
One-Off Climbing Sessions
An adventurous experience for your school group within the safety and comfort of an indoor centre. Climbing can be used as a one off activity to help promote teamwork, confidence and communication within groups of students.
1 hours climbing – £12.50 per pupil
1.5 hours climbing – £15.00 per pupil
2 hours climbing – £17.50 per pupil
Activity day 10am – 3pm – £30.00 per pupil
Includes entry, equipment and instructor
GCSE PE
Recommend a training session of 5 hours and a training and assessment session of a further 5 hours, a total of 10 hours. £55 per pupil for the 2 sessions.
It is suggested a 4 week gap between the 2 sessions above and pupils are encouraged to come and climb in their own time or as a school group. Recommend 4 climbing sessions for 1.5 hours £12.50 per session per pupil.
NICAS Climbing Sessions, 1.5 Hours
Structured around NICAS, children will learn all of the the essential skills needed to become a safe climber. These sessions include a NICAS logbook for each child and nationally recognised certificates for each level they achieve.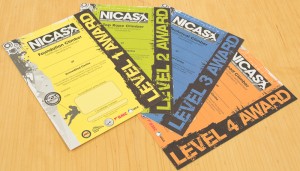 6 sessions at a fixed price of £360 per group of 6 (£10 per person, per session)
Runs during school hours or as an after school club
Groups of 6 – 14 (free transport available)
Other sessions are available for varying group sizes and additional needs, please call 01332 367200 to speak to us about the needs of your group.
DofE Awards – read more about our great opportunities for fitness and volunteering as part of the DofE Awards>>.